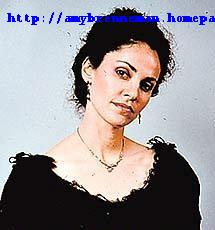 By
VIRGINIA ROHAN, Staff Writer

05-11-1999

"Mary Cassatt: American Impressionist," 7 tonight, HBO

There's something about Mary Cassatt -- and Amy
Brenneman wanted to capture it on screen.

"I did a lot of reading on her, and it was one of these
lovely experiences where the more details I had about her,
the more interesting she became. She was very complex,"
says Brenneman.

The actress -- probably best known for her
Emmy-nominated "NYPD Blue" role as Officer Janice
Licalsi -- plays the renowned 19th century American
expatriate artist in "Mary Cassatt: American
Impressionist," an hour-long program airing in HBO's
"The Artists' Specials" series.

Each production sets out to illuminate a pivotal chapter in
the life and work of a great artist, through the artist's
encounter with a young person.

In the case of the unmarried, fiercely independent Cassatt
-- famed for her luminous paintings of women and
children -- it's a surprise visit from her brother, his difficult
wife, and their three unruly children.

Cassatt, who defied social conventions when she left her
Philadelphia home to study in Europe, finds her ordered
life in Paris upended. Ultimately, however, she is inspired
to paint the children.

Although there is obviously a lot of compression in the
script, the story also has a lot of truth, Brenneman says.

"During that period, she was deeply affected by Degas
and the impressionists, but hadn't found her style," she
says. "Then, she started doing these portraits [of her
nieces]. Nobody was painting children then, and if they
did, they were doing it in a stiff format. But there was such
a sensual connection that she had."

The set location also added to a feeling of authenticity,
Brenneman says. "Filming in Old Montreal helped,
especially living as I do in Los Angeles. You can forget
what old stones feel like."

This month, Brenneman can also be seen in a far more
modern TV role. On "Frasier," she's reprising her role as
Faye Moskowitz, Frasier's sometimes girlfriend.

"Faye's part of a two-part season finale [May 20], which is
sort of like the end of a Shakespeare play," Brenneman
says. "Everybody's got a girlfriend or boyfriend, but by
the second half, everybody is alone. In my case, Frasier's
just too darn neurotic."

Still, their parting may not be permanent. "The writers
said, `We love you. We love Faye.' There are very few
compatible partners for Frasier, so we may not have seen
the end of Faye yet."

Brenneman, who's in her mid-30s, has one of the most
fascinating resumes around.

The daughter of an environmental attorney and a Superior
Court judge, she was born in New London, Conn., raised
in the Hartford suburb of Glastonbury, and earned a
degree in comparative religions from Harvard.

Her college years included her co-founding of the
Cornerstone Theater Company -- a troupe that
customizes the classics and takes them to the back roads
of America -- with which she's still affiliated.

She also spent a semester in Nepal, where she studied
sacred dances from indigenous priests, and lived in Paris
for seven months, earning her living as an au pair for two
autistic children.

The actress -- whose first TV project was the series
"Middle Ages" ("I really liked that show," she says) -- was
playing St. Joan at Yale when she got the call about doing
"NYPD Blue."

During the show's terrific first season, her Officer Licalsi
was the love interest of Detective John Kelly, played by
the great but reportedly temperamental David Caruso.

"Whatever frustration or madness would come through
on the set, it never came towards me," Brenneman says
of Caruso. "I just think he's a real original, and he just has
his own rhythm."

As for her untimely departure -- after having rubbed out a
mobster and his driver to protect her beloved Kelly --
Brenneman says, "The truth is, they wrote me out of the
show, so I didn't really have that much say in it, but I was
very amenable to it. They had sort of finished the story
line."

Brenneman has appeared in a number of movies,
including "Daylight," and she recently
executive-produced and starred in a pilot, "Shades of
Gray," for CBS, inspired by her mother the judge, who did
most of her work in juvenile courts.

"It's an idea that I had and brought them last summer. A
drama, with a lot of deprecating, ironic humor,"
Brenneman says. "I play a newly appointed judge to the
juvenile court, a newly separated woman living with my
mother, played by Tyne Daly. It's half work, half home,
very much kind of a crossroads moment for this woman."

She adds, "I'm sure we'll get compared to `Providence,'
and I feel good about that."

At the time of this recent interview, Brenneman and her
husband, film director Brad Silberling ("City of Angels") --
whom she met when he directed her on "NYPD Blue" --
were about to take off for India for a three-week vacation.

"My husband and I are going to pass in this pilot and then
get the hell out of Dodge," she said. "While we're in India,
we'll hear if we get picked up. I do know that it's quite a
competitive field for CBS hours. But I think my
peacefulness is that it came out really well."