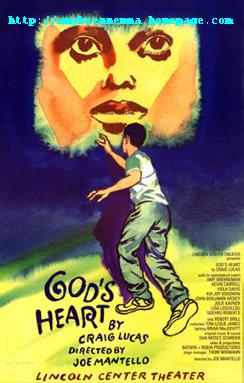 NEW YORK - Craig Lucas' best plays have created their
peculiar brand of wide-eyed charm by dabbling in
supernatural fantasy: Reckless is full of coincidences
only a hyperactive deity with a grim sense of humor could
have devised, and Prelude to a Kiss' heroine exchanges
bodies with an old man on her wedding day.

Mr. Lucas' most recent play goes much farther in messing
with reality. God's Heart, which received its world
premiere at Trinity Repertory Company in Providence, R.I.,
two years ago, opened at Lincoln Center' s Mitzi E.
Newhouse Theater on Sunday. In it people keep
wandering into other folks' dreams, and a black woman
actually becomes God by having her soul transferred into
a computer.

This time around, Mr. Lucas' rather primitive
science-fiction trappings work against his play's
ambitions. God's Heart is an outcry against the racial,
class and gender divisions in American society, but the
let's-pretend premise seems too far-fetched for us to take
its heartache entirely seriously.

In some ways the play is reminiscent of John Guare's Six
Degrees of Separation in that a well-to-do married woman
(Amy Brenneman) connects emotionally and spiritually
with a less-privileged young black man (John Benjamin
Hickey). But at the end of God's Heart, the entire action
turns out to be a fantasy or dream, and the two have
never actually met.

No doubt this is more realistic in one sense - in life, rather
than on the stage, these two people would probably never
have a chance to connect. But it seems odd that a play
about absolute alienation, about despair over individuals
from different groups ever getting together, should have
so much in the way of incident. Samuell Beckett never
had this much plot. We're grateful to Mr. Lucas for
entertaining us, but we just get mad when he takes it all
back at the end.

It all begins when the woman keeps noticing the young
man out her apartment window. He's a serious student
trying not to get in trouble, but he occupies a bench as a
lookout for a drug dealer - and because he has no place
else to go.

These two start showing up in each other's dreams and
fantasies, but soon two other characters become
intertwined as well. They are a lesbian couple on their way
to New York to receive a prize. The black woman (Viola
Davis) is dying of cancer. Her partner (Julie Kavner), a
lawyer, has become caught up in caring for her as her
strength ebbs.

The cast contains many of our best young actors, but
they don't have much to sink their teeth into. Ms. Davis,
who was so wonderful last year in Seven Guitars, spends
most of her time suffering silently or backstage talking
into a camera while she's supposed to be in the
computer.

It's too bad that Mr. Lucas gets so tangled in his futuristic
plot, because we care enough about his characters that
we wish they'd wake up and do something real.