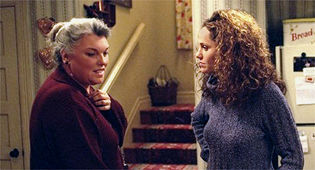 In a country that's always on the move, we find comfort in shows that trade big-city headaches for the rewards of a simple life. When Amy Brenneman was in her mid 20's, she had nowhere to go except home. Traveling all over the United States with her own theater company 10 months a year, she was too broke to afford her own place in New York or Los Angeles, so during breaks she headed back to her parents house in Glastonbury, Connecticut, just outside Hartford.

"It was almost like this really intensive therapy, like when you look at baby pictures too much," says Brenneman, 36, who now lives in Southern California with film director Brad Silberling, her husband of five years. "I would sleep in my childhood bed and wonder, Who am I? Why don't I have a life? To say nothing of the memories that would come up."

Now that Brenneman is playing Judging Amy's Amy Gray, a big-city lawyer who beats a painful retreat from a bad marriage, returns home and moves in with her mother, Maxine (Tyne Daly), those memories are still potent. "I'll laugh [in a scene] and I'll say to Tyne, I'm about 11 now. Or I'm 16 now," says Brenneman, who is also the show's creator and executive producer.

Amy Gray is part of a wave of television characters who have gone home. Shortly before Amy left New York for Hartford on CBS, Dr. Sydney Hansen (Melina Kanakaredes) on NBC moved from Los Angeles to her Rhode Island hometown on Providence. This season, another unhappy New York lawyer (Thomas Cavanagh) packs up and goes home to the fictional town of Stuckeyville on NBC's Ed. On Fox, Butch Gamble (John Goodman) leaves L.A. and returns to his hometown, Normal, Ohio. They all join Dr. Frasier Crane (Kelsey Grammer), formerly an academic psychiatrist in Boston, who is in his eighth year in Seattle, where he grew up, on NBCs Frasier.

Apparently, a lot of television writers making it big on the Coasts yearn to lead simpler lives back where they once belonged. Or do they just think that we, the viewers, do? "There is this fantasy of what would it be like to start over," says Rob Burnett, Ed's creator and executive producer. "Ed, in his moment of crisis, is looking through pictures and asks, When was the last time I was really happy? [Then he decides:] Im going to now go re-create my past."

Ed's moment is actually one very bad day in which he's fired from a Manhattan law firm, only to come home and find his wife in bed with the mailman. No wonder his gaze falls longingly upon a photo of Carol Vessey (Julie Bowen), the girl he adored from afar in high school. So when he revisits Stuckeyville and runs into the still-beautiful Carol, he promptly buys the local bowling alley and moves home.

"What if a guy in that position suddenly got a completely clean slate?" asks Burnett, 38, who left North Caldwell, New Jersey, for New York City 15 years ago. "I think there's something very compelling about that."

On the other hand, if a person's in the market for a new life, why not move to Paris? Or Hawaii? But Stuckeyville? On TV, the lure of the familiar is irresistible. And that visceral reaction to the streets and byways of your childhood seems universal. Bonnie Turner, co-creator and executive producer of Normal, Ohio, gets that old feeling visiting Toledo, Ohio, where she grew up. "To drive along the Maumee River brings me a strong sense of inner peace," says Turner, 48. "There's a sense memory thats overwhelming." It wasn't just the location that inspired Turner and her husband, Terry Turner, who's also the shows co-creator to set Normal in the Buckeye State. They also did it because "a gay character in a metropolitan area is not as interesting as a gay character in a small town," says Terry Turner, 50, who is originally from Stockbridge, Georgia. They also moved Butch, a divorced, gay working-class dad, in with his sister, Pamela (Joely Fisher), a divorced, straight working-class mom.

The need to reconnect with one's immediate family is an integral part of the current big-city exodus in prime time. The central characters in Judging Amy, Providence and Frasier all live under the same roof with one of their parents. Almost no one on television, it seems, returns to a traditional, two-parent household. (Ed's parents are still together, but they've left Stuckeyville for Boca Raton, Florida. So are Butch's, but he doesn't live with them.) These arrangements reflect the prevalence of divorce and single parenthood in the United States. Or maybe the fantasy of going home and getting it right this time won't work if the family dynamic exactly duplicates the past. "If both parents are still there," theorizes Brenneman, "then probably the [parent-child] relationship would be so stabilized as to not be interesting." What is interesting about the dynamic on Judging Amy is that Amy, with her father gone, sometimes gets to be the ultimate boss, thanks to her judges robes. On one episode last season, she and Maxine, a social worker, ended up handling the same medical case and Amy pulled rank, saying, in so many words, "That's Judge Gray to you."

John Masius, the creator and executive producer of Providence, insists that Sydney's mother, Lynda, who suffered a fatal heart attack at her younger daughter Joanie's (Paula Cale) wedding in the pilot, is still a part of the family. "Death doesn't end a relationship," says Masius, 50, who grew up in Scarsdale, New York. But conveniently, Mom (Concetta Tomei, prancing around in the afterlife in her mother-of-the-bride dress) appears only in Sydneys dreams and waking fantasies, leaving the care of Dad (Mike Farrell) to her beautiful elder daughter. It's Freudian, its Oedipal, and it gets great ratings.

Masius also thinks the concept of going home is attractive right now because so many baby-boomer viewers are facing the aging and death of their own parents. Maybe one of them has gone, as in some of these series, but the relationship with the other parent can be golden. Syd's father is "understanding and helpful and articulate," says Masius. "At the same time he gives her room to make mistakes."

More cynical minds see the going-home trend differently. "I think its more just the fact that people are realizing that you can't escape your family," says Cindy Chupack, the Tulsa, Oklahoma-born writer and co-executive producer of ABC's Madigan Men. "It's not a desire; its just embracing the inevitable." In Madigan Men, Benjamin Madigan (Gabriel Byrne) learns that if you don't move back to your family, they may just come to you. His Irish father, Seamus (Roy Dotrice), turns up in New York for a vacation and never leaves. The two men become a two-parent family for Benjamin's son, Luke (John C. Hensley).

Chupack, 35, is thinking now that the single persons "my friends are my family" line is bogus. "Once people start having kids, it's harder for them to be there for you," she says. "They probably won't be eager to meet you for a drink just because you had a bad date, for instance."

Of course, neither will your parents. As most of the dramas and comedies show, living with a parent is not always bliss, no matter how mature you are. "It's a different kind of fantasy of you going home and everything's not wonderful," says Barbara Hall, an executive producer of Judging Amy, who grew up in Chatham, Virginia. "But you still have a relationship. I think that's something we all struggle for, that you can co-exist with people who don't understand you and don't approve of everything you do." Certainly, at some point, adults begin to value their parents in new ways. In youth, as Brenneman says, "you define yourself against your parents this is me, this is them you go off in the world and have your adventures." But in time we all begin to empathize with our parents. "When you reach that point, when you're looking for meaning," she says, "your nuclear family" can come in handy. The last time television saw a flurry of characters moving back to their hometowns, in the mid 70s, aging parents didnt get nearly this much attention. Gabe Kaplans Mr. Kotter on ABCs Welcome Back, Kotter went back to Brooklyn to teach the high school kids who needed it most. He and his wife, Julie (Marcia Strassman), stayed in their tiny apartment with no help from their parents even after the twins were born. Valerie Harper's Rhoda Morgenstern, back in New York after years in Minneapolis, did stay with her parents in the Bronx on CBS's Rhoda though only for one episode, and that half hour focused on what an infantilizing mistake the idea was. George Apple (Ronny Cox) on CBS's long-forgotten Apples Way did have a father, but he hadn't moved to Iowa to be with him--George was a socially conscious guy who wanted to get his children away from the evils of L.A.

In the 00s, the only things being idealized are the hometowns themselves. No one's going back to Bushwick, Brooklyn, Bethlehem, Pennsylvania or downtown Detroit. Exteriors of Providence often feature sweeping aerial views of the city, lush with red and gold leaves. "We only go back in the fall," deadpans Masius. Amy and her brother, Vincent (Dan Futterman), have been seen burning leaves in their backyard on Judging Amy. (Fall foliage is important to season-starved California writers, who, it seems, would give anything to see a sugar maple.) The Stuckeyville of Ed, filmed in Ridgewood and Northvale, New Jersey, is distinguished by a grand red-brick schoolhouse, a white church steeple visible just behind it and a glassy pond in front. And everyone's childhood house is traditional, tasteful and lovely, making it the perfect escape from an era of overwork, time anxiety and trophy stress. As Bonnie Turner of Normal, Ohio, points out, "There are a great number of people who would like to slow down, who would like to simplify their lives."

And if they can't actually do it, they can watch someone else doing it on TV. "Everyone dreams about a second chance," says Masius. And whether that second chance takes the form of a new relationship with an aging parent, a renewed acquaintance with an unrequited high school love or more satisfying work in a new setting, it requires making a choice and taking action.

"It's like were on moving sidewalks, standing there in a coma, tricking ourselves into thinking were getting ahead," says Ed's Burnett, describing contemporary urban desperation. But the characters in Ed, Judging Amy, Providence and Normal, Ohio have gotten off those moving sidewalks. "Its all," concludes Burnett, "about living deliberately."