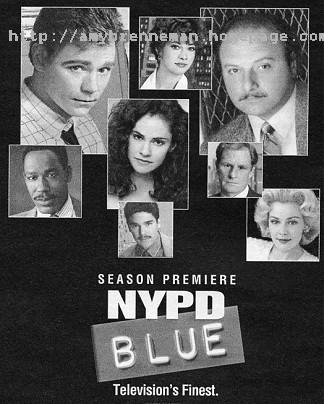 PILOT (Originally Aired 21 September, 1993)

Det. Andy Sipowicz's continual harassment of Alfonse
Giardella winds up getting him in trouble. Lt. Arthur Fancy
tells Det. John Kelly it may be time for a new partner.
Sipowicz is brought up before IAB. Laura Kelly wants to
process the divorce between she and John and the
neighbor in apartment 4B, where a mugging has recently
happened, is doing the paperwork. Sipowicz gets drunk
and meets his lady friend, Lois, and is shot by Giardella in
the process. Kelly begins to apply pressure on the local
Mafia to try to get them to give Giardella up. Janice Licalsi
and John begin to have a relationship. "4B" is mugged in
the laundry room. Marino wants Janice to kill Kelly.

4B or Not 4B (Originally aired 28 September, 1993)

Lastarza of the Organized Crime Unit tells Fancy & Kelly
that they better stop applying pressure on the mob.
Sipowicz regains consciousness but has no memory of
the shooting. Laura and John become officially separated.
"4B" begins to do his laundry every night with his gun in
hopes of catching the attacker. Laura decides to join a
private law firm. Angelo Marino puts pressure on Janice to
kill Kelly; however, she kills him and his driver instead.
Sipowicz returns to "active" desk duty and Lois turns up
and helps to nail Giardella. Alfonse offers to give up all
sorts of proof that will put him on easy street. A father
takes a judge hostage, when he feels justice wasn't done
for his dead son, Kelly talks him out of it. John and Janice
talk about their relationship and Angelo Marino's death.
"4B" shoots his mugger.

BROWN APPETITE (Originally aired 05 October, 1993)

Janice's father comes to visit and warn her about his
pending corruption indictment. Sipowicz makes some
appearances at the hotel where Giardella is being held.
Kelly and Martinez are assigned a case involving the
robbery and brutal murder of a woman. 4B comes to the
precinct in search of his gun. Fancy and Sipowicz meet
man to man and air their differences. Kelly begins
moonlighting as a security guard for a wealthy woman
who's married to an abusive husband. Sipowicz is put
back on the job and Janice's father takes the easy way
out.

TRUE CONFESSIONS (Originally aired 12 October, 1993)

Kelly quits his security job and warns the abusive
husband to watch out. A man is arrested for a robbery
and double-homicide when Det. Walker is convinced he is
guilty, though Sipowicz feels differently. Laura quits her
job and plans to move into a position with the District
Attorney's office, prosecuting narcotics. Kelly winds up at
the scene of the abusive husband's murder. "4B" has
Kelly come and appear before the tenant's readiness
group, later the edgy "4B" is shot on a subway platform
trying to save an elderly woman.

EMISSIONS ACCOMPLISHED (Originally aired 19 October,
1993)

James goes to visit his brother but finds the super at the
building is a cop who is on the take and slowly forcing
tenants out. Det. Stillwell's pranks become a nuisance for
everyone. Martinez's brother's building is the scene of an
"accidental" death that convinces him the cop is bad.
James' father comes down on him for not keeping an eye
on his brother. John contacts an old friend who's in IAB
about Martinez's theories, but to protect Martinez from
IAB, John takes a tape recorder in and gets Hanlon to talk.
Laura's new job as an ADA takes a twist as she is
assigned a case that involves Giardella.

PERSONAL FOUL (Originally aired 26 October, 1993)

A minor skirmish on the basketball court leaves one of
Kelly's friends dead and the other in jail for murder. Laura
feels as though she's being dangled in front of Giardella.
John's buddy has trouble dealing with being locked up
and makes the whole situation worse. Sipowicz is
convinced that a man knows more about his wife's death
than he is letting on so he stirs him up. Janice warns Kelly
and saves his life during a drug raid and the event seems
to bring them back together.

NYPD LOU (Originally aired 2 November, 1993)

A man thinks he is a werewolf and demands to be locked
into a cell before he kills someone. Sipowicz discovers
that his estranged son's future wife has been sleeping
around. A homeless man is suspected in the death of a
nine-year-old. Giardella is killed before he can testify and
Laura is the only witness to the crime.

TEMPEST IN A C-CUP(Originally aired 16 November 1993)

Kelly suspects a man of murder but tries to get him to
confess to the robbery of four taxicabs, so later they can
link him to the murder. Sipowicz arrests a topless dancer
for prostitution and she offers to help him get at the owner
of the bar who is laundering money for the mob. Laura's
partner has questionable ethics and she tries to protect
her professional reputation. The squad room gets a new
detective's administrative aide, named Miss Abandando.
Sipowicz goes on a date with the Sylvia Costas, tha ADA
he once called a "pissy little bitch."

ICE FOLLIES (Originally aired 30 November, 1993)

Janice is asked by the mob to start doing favors for them
again or they will expose her past activities. James' father
wants to kill the pusher who's responsible for his son's
overdose. Medavoy celebrates his 40th birthday and later
goes ice-skating with Donna.

OSCAR, MEYER, WEINER (Originally aired 7 December,
1993)

The detectives investigate the brutal murder of an upper
class family. Lastarza orders Janice to cooperate with the
mob though it results in the death of the person whose
plates she ran through the computer. Kelly deals with his
relationship with Janice as she tries to keep him out of her
current situation. Sipowicz takes the statement of a gay
writer whose Academy Award was stolen.

FROM HARE TO ETERNITY(Originally aired 14 December,
1993)

Borough Commander Haverill starts to come down on
Fancy. Kelly and Sipowicz investigate the kidnapping of a
doctor's daughter. A woman claims to have no knowledge
of the robbery the man they were riding with committed in
North Carolina. Janice must pass some more information
to the mob, but wonders how she'll ever get out of this
situation. Sipowicz threatens to reveal some incriminating
evidence about Haverill to get him to lay off Fancy, he
later plays Santa Claus to underprivileged children. Kelly
stops to visit his mother in her rest home. Martinez
receives his new badge, making him a detective.

UP ON THE ROOF(Originally aired 4 January, 1994)

Martinez works his first case, which involves a fake ATM.
A foster child that Fancy and his wife had been caring for
is ordered back into the custody of his real mother who's
just been released from a detox program. Sipowicz and
Kelly investigate a mob shooting that turns up the
notebook that Marino kept Janice's name in. Later the
triggerman who nailed Giardella, and that Laura can
identify, is trapped on a roof with a hostage.

ABANDANDO ABANDONED(Originally aired 11 January,
1994)

Medavoy leaves his wife and tells Donna about his
feelings for her, which it turns out are mutual. An academy
classmate of Kelly's joins the squad; then Sipowicz and
Kelly investigate the death of her husband, whom was an
ex-cop trying to stop a robbery on her first day at the 15th
precinct. An alcoholic woman keeps lodging complaints
with Kelly against her husband that she never follows
through with, later she confesses to killing him.

JUMPIN' JACK FLEISHMAN(Originally aired 18 January,
1994)

Medavoy and Martinez work a strangulation murder case
that appears to be the work of a cross-dresser. Andy has
a bad tooth, hates needles, and tries to prevent a dentist
from jumping off a 28th floor ledge; he fails. LaSalle's first
case involves a woman who was raped and she, John,
Andy, Janice and Licalsi's hot-headed new partner try to
catch the most probable suspect; however the hot-head
blows the bust. Lois tries to reconcile her relationship
with Andy.

STEROID ROY(Originally aired 8 February, 1994)

Sylvia still has trouble-getting Andy to get their
relationship going. One of Det. Roberts' snitches comes
to the precinct and causes trouble for him, especially
when she later turns up dead. Laura appeals to John to
re-examine the alleged murder of the abusive man by his
wife; Martinez and Medavoy take on the chore when
Robert's snitch is found dead. Roy is sent to take a drug
test that he fails, is fired and vows to not let it die. Sylvia
makes it into Andy's apartment.

BLACK MEN CAN JUMP(Originally aired 1 march, 1994)

LaSalle has a chance to move out of the precinct and into
a more regular routine of detective work. A
thirteen-year-old boy is shot. Sipowicz suspects a private
investigator of bilking a father, for the past six months, in
a scheme to find the man's daughter. Andy's also was
looking for her for the past 2 1/2 years. The father of the
murdered boy apprehends the killer, after he discovers
the killer (whose injured LaSalle) has escaped from the
precinct.

AEPPO MARKS BROTHERS(Originally aired 22 March,
1994)

Roberts meets with Kelly in search of getting some
bodyguard work. A woman whose boyfriend was a
material witness is afraid to identify the hit man because
she's afraid she'll be next. Laura feels as though she's
being stalked and while checking it out John gets to meet
her new boyfriend. The hit man is identified, wired and
sent to Riker's to get incriminating evidence against the
brothers who hired him. While listening in, John hears
that Laura was also an intended target. None of the
detectives are too excited when Haverill sends them
down to Times Square for uniform detail at a parade.

SERGE THE CONCIERGE(Originally aired 29 March, 1994)

Robin's husband dies, later she is angry when her
husband's will seems to stipulate that Kelly should
resume his duties as her bodyguard. Sipowicz must clear
his son of a drug pushing charge. The detectives check a
garbage dump for a female body but turn up a male.
Looking into the male body's murder, Kelly suspects a
concierge and the hotelier of conspiring to murder the
hotelier's husband.

GOOD TIME CHARLIE(Originally aired 3May, 1994)

Janice gets promoted and will be working with the other
detectives until she can be transferred to the
re-organizing intelligence division. Kelly suspects that his
friend is being framed for the murder of his mistress, even
after his behavior in the squad room. Arthur's wife lets
him know she is pregnant again; he is less than
enthusiastic considering the complications of her
previous pregnancy. Andy takes a sip of a drink at a
birthday party for Sylvia's father and later he has more
and then he throws her out of his apartment.

GUNS 'N ROSARIES(Originally aired 10 May, 1994)

Medavoy tells Donna that he's caught his wife in the act of
being unfaithful, so he is moving out. Racial hostilities
flare up after Martinez shoots a belligerent black motorist
who draws a gun on Medavoy, but the gun is missing.
Distressed by recent events, Licalsi searches for
direction, John points her to his friend, Father Downey.
After talking with him, she then confesses to Fancy that
she killed Angelo Marino and his chauffeur and then the
circus begins. Sipowicz tries to attend an open meeting.

SEASON 2

TRIALS AND TRIBULATIONS(Originally aired 11 October,
1994)

Kelly risks the consequences when he testifies on
Licalsi's behalf and IAB begins to investigate him.
Sipowicz works with an abused woman who's reluctant
to testify against her husband. The detectives investigate
robberies of drug dealers in their apartments. John tells
Robin about the feelings he still carries for Janice.
Sipowicz's AA sponsor wants him to agree to abide by a
contract before he lets him try to restart his relationship
with Sylvia. Donna tries to give Greg advice about dealing
with his divorce.

FROM WHOM THE SKELL TOLLS(Originally aired 18
October, 1994)

IAB begins to investigate Kelly and Sipowicz's busting of
the officers they caught robbing drug dealer's
apartments, then they begin looking into Kelly's handling
of the notebook, that was part of Medavoy's case. Roberts
drops by the station with a gift for Kelly. Sipowicz & Kelly
investigate a double murder. Licalsi takes the stand in her
trial and the verdict comes back. Andy tries to have dinner
with Sylvia, but things keep coming up; eventually they
get together.